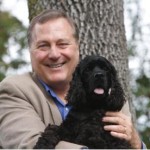 Allen Anderson, New York Times bestselling author of A Dog Named Leaf with his wife Linda are coauthors of a series of popular books, published in multiple languages, about the benefits of human-animal companionship. In 1996 they cofounded the Angel Animals Network to honor and expand upon their lifelong love of animals. Angel Animals uses the power of inspirational stories to increase love and respect for all life.
The Andersons' books have won recognition from the American Society of Journalists & Authors's Outstanding Book Award program. Allen and Linda were named Partners and Friends of the American Humane Association in recognition that their mission and efforts are in alignment with the organization's work.
The Andersons raised two children along with pets as family members. They currently share their home in Minneapolis with pets whose relationships would make great film plots -- a dog named Leaf, Cuddles the cat, and Sunshine, a cockatiel who says, "I love you, sweet baby."
Allen & Linda Anderson's books:
Genres
This author writes in the following genres:
Find out more about Allen & Linda Anderson at: