It is a time of new beginnings! Pharaoh Akhenaten has declared that there is only one god to be worshipped throughout Egypt. He has also made a promise to his oldest daughter, Merytaten, that one day she will be his heir and the future pharaoh. However, as pressures build up against the new religion, it falls upon Akhenaten's wife, Nefertiti, and Merytaten to help prevent an insurrection.
Merytaten soon finds herself trapped in a world of broken dreams and empty promises. When she loses the meaning to her life, how can she possibly help the citizens? What can she do to assist the people who are falling into poverty? How can she save those she loves when Death's shadow looms large across the city?
Discover the struggles and triumphs of one young woman's lifetime...
Heir of the Heretic is book 2 of The Forgotten series by J. Lynn Else.
Purchase information
Heir of the Heretic is available from:
Not ready to purchase?
Go to Goodreads and add it to your to-read list!
Other books by this author: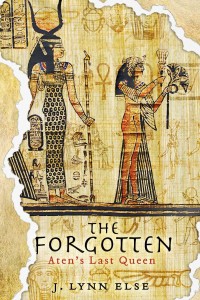 About the Author
Around 4th grade, J. Lynn began writing stories. She also developed an interest in history around that time when she was gifted the book The Discovery of the Titanic: Exploring the Greatest of All Lost Ships (which she still owns). Her creative writing also developed in part through having multiple pen pals in her school days (in the "time before email" times!).
J. Lynn enjoys reading and writing about awesome women from antiquity. Her first novel released in 2013, The Forgotten: Aten's Last Queen (The Forgotten #1), was named an Indie Editor's Choice book by the Historical Novel Society and was long listed for the Historical Novel Society 2017 Indie Award. Her second novel, The Forgotten: Heir of the Heretic (The Forgotten #2), was released December 2016 and again follows the family of Akhenaten & Nefertiti through the eyes of their daughters.
Outside of reading voraciously and driving kids to multiple after-school activities, J. Lynn enjoys a perfectly steeped cup of hot tea while writing and editing her next projects, one is a YA adventure involving the women of King Arthur's time and the other is a historical fiction about an empress who lived in ancient China. Her next novel about ancient Egypt is in the early planning stages.