When travel writer Emily Swift agrees to join her boyfriend Chet for a romantic getaway on Madeline Island, she has no idea she will end up accused of murder. But that's what happens when she finds a dead lawyer stashed in an abandoned refrigerator. Who could have killed him? Could the fact that he was on the island to help Chet's grandmother rewrite her will be a motive? Chet's family is outraged by a will that excludes them unless they find Gram's Ojibway half-brother. But surely they aren't angry enough to kill. Or are they? When everyone on the island assumes that Emily and Chet are engaged and the victim's blood stains are found in her car, she quickly becomes the prime suspect. Can Emily clear herself and solve the case in time to prevent the killer from striking again? Or will her sleuthing lead her into a new romance and even greater danger? Find out in Murder on Madeline Island.
Publisher
Published by: Cozy Cat Press
Purchase information
Murder on Madeline Island is available from:
Not ready to purchase?
Go to Goodreads and add it to your to-read list!
Other books by this author: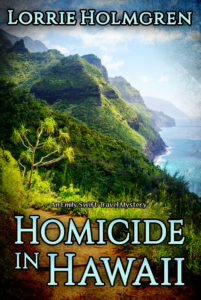 About the Author
Lorrie Holmgren is the author of two Emily Swift travel mysteries -- Murder on Madeline Island, and Homicide in Hawaii. She lives in Minneapolis, Minnesota, busily penning mysteries when she isn't traveling the world. Lorrie has a special affection for Madeline Island, one of the Apostle Islands in Lake Superior, which she often visits with her writing group, friends and husband. She is currently writing her third travel mystery novel about Emily Swift.