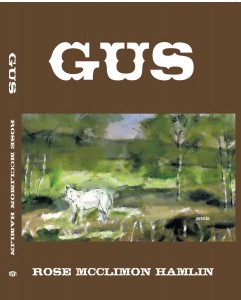 A life-changing journey in a story of love, Gus was an appaloosa gelding that became a part of my family when I was five years old. Full of mistrust fear gripped his life making it hard to trust any human. He was dangerous, kicking and biting even bucking off most of his riders. Gus couldn't be trusted. Slowly through the years a love grew. Gus and I shared a bond so strong it changed our lives forever. This is an adventurous story of learning to love, learning to give, and learning how to say good-bye
Publisher
Published by: AuthorHouse
Purchase information
Gus is available from:
Not ready to purchase?
Go to Goodreads and add it to your to-read list!
Other books by this author:
No other books are currently registered for this author.
About the Author
Author Rose McClimon Hamlin writes non-fiction and her articles have appeared in the Fillmore County Journal and the Bluff Country Reader. She graduated from Heritage Academy and attended Rochester Technical College of Rochester, Minnesota. She graduated as a Certified Medical Assistant. Rose shares writings on her website www.anniesrose.com. Her mother's work, Annie's Photography, is an inspiration for many of her writings. Rose grew up on her family horse farm near the small town of Wykoff, Minnesota. She competed with her horses in barrel racing attending Little Britches Rodeos, High School Rodeos, the International Rodeo Association, South East Minnesota Saddle Club Association (SEMSCA) and 4-H. She has two sons and a daughter and says she owes her success to her supportive husband, parents, and family, but most importantly God. Today, Rose continues to work alongside her family training horses and helping her three children as they discover their love for horses.