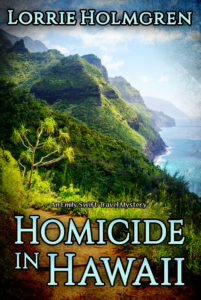 Travel writer Emily Swift looks forward to a romantic trip to Hawaii with her boyfriend Jack. It'll be a snap to write about the breathtakingly beautiful Hawaiian Islands – especially with a friend, who lives in Waikiki, as her guide. But Emily's hopes are dashed when Amanda's dead body is found in an ancient Hawaiian ritual site. Who would kill a woman whose friends describe her as "saint like"? Emily uses her reporter's skills to find out. Did Amanda discover her husband's philandering? Who is the father of Amanda's Native Hawaiian goddaughter Kari? Why was Amanda obsessed by her family's role in the history of Hawaii? What secrets lurk in old letters and photos? As Emily delves into the past to find the killer, she finds herself in danger. Finally, she realizes that the murderer is closer than she thinks––and a Hawaiian tourist spot may prove to be her grave as well as Amanda's.
Publisher
Published by: Cozy Cat Press
Purchase information
Homicide in Hawaii is available from:
Not ready to purchase?
Go to Goodreads and add it to your to-read list!
Other books by this author:
About the Author
Lorrie Holmgren is the author of two Emily Swift travel mysteries -- Murder on Madeline Island, and Homicide in Hawaii. She lives in Minneapolis, Minnesota, busily penning mysteries when she isn't traveling the world. Lorrie has a special affection for Madeline Island, one of the Apostle Islands in Lake Superior, which she often visits with her writing group, friends and husband. She is currently writing her third travel mystery novel about Emily Swift.